The Toxic Concoction is the middle step in creating Refined Spider Venom. It is not used in any enchantments. You can also drink it!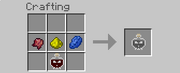 The Toxic Concoction is made with 1
Vial of Spider Venom
, 1
Glowstone Dust
, 1
Lapis Lazuli
, and 1
Fermented Spider Eye
. This is a shapeless recipe and can be made in a normal workbench.